Symposium Description
This symposium is primarily designed for physicians, clinicians, pharmacists, nurses and other healthcare professionals. Discussions will focus on the most common conditions for which medical cannabis is recommended, the evidence for its effectiveness, and guidelines about dosage, treatment protocols, and side-effects. National and local experts will help practitioners and other healthcare professionals develop an understanding of the science and health effects of medical cannabis, including presentations on cannabis and cancer, PTSD, chronic pain, epilepsy and opioid abuse disorder. The symposium will also feature a discussion of the New Mexico Medical Cannabis Program and on-going cannabis research efforts in New Mexico.
Invited Faculty, Providers and Speakers
Donald Abrams, MD Emily Lindley, PhD
Professor of Clinical Medicine Assistant Professor , Orthopaedics
University of California San Francisco University of Colorado
Snehal Bhatt, MD Leslie McAhren, MPH, MFA
Assistant Professor, Anschutz Medical Campus
Psychiatry and Behavioral Sciences University of Colorado
University of New Mexico
Daniel Duhigg, DO, MBA Harry McIlroy, MD
Program Medical Director for Behavioral Health Pacific Integrative Medicine
Presbyterian Healthcare Services Medical Director
San Francisco CA
Rachel Franklin
Medical Student William F. Rayburn, MD, MBA
UNM School of Medicine Associate Dean,
University of New Mexico CME & Professional Development
University of New Mexico
Kathy Kunkel, JD, MSW
Cabinet Secretary Jacob Vigil, PhD
New Mexico Department of Health Associate Professor: Psychology Dept.
Santa Fe NM University of New Mexico
Leah Roberts, MD
Former Medical Director, Medical Cannabis Program
New Mexico Department of Health
Santa Fe NM
http://mcrf.unm.edu
Symposium Objectives

*Learn the major clinical indications, relevant supportive studies, and contraindications for the therapeutic use of medical cannabis.
*Review the science of the endocannabinoid system.
*Learn about on-going research projects and future state-wide collaborative cannabis research efforts.
*Learn the practitioners' role and responsibilities regarding New Mexico Medical Cannabis Program and federal laws.

Hotel Accommodations
A block of rooms have been reserved for participants for September 19, 2019 and September 20, 2019 at the rate of $129.00 plus $20.00 amenity fee and taxes per night (single/double occupancy).

To receive the group rate, guests must state that they would like to be placed within the "Clinical Symposium on Medical Cannabis" block of rooms, or they may refer to Block Code 1909SCC

Rates will not be changed at check-in or check-out time for attendees who fail to identify their affiliation with this meeting at the time the reservation is requested. All reservations must be guaranteed by a major credit card.

To make room reservations, participants should contact the hotel directly at:

Hotel Albuquerque at Old Town - Albuquerque, New Mexico
800 Rio Grande Blvd. NW | Albuquerque, New Mexico 87104
phone: 505.843.6300 | reservations: 1.866.505.7829
OnLine Reservations
Registration Fees
Minimum and maximum registration numbers have been established for this conference. Advance registration is encouraged. Register early to avoid disappointment. The registration fee includes conference materials, breakfast, refreshment breaks, and lunch. Due to limited enrollment, your registration will be confirmed. Please confirm your registration before making travel arrangements. Present your confirmation at registration check-in.
Registration Options:

*Online with credit card,

*Standard US Mail: Make check payable to: UNM Continuing Medical Education & Professional Development Mail Registration Form & check to: UNM CME, MSC09 5370, 1 University of New Mexico, Albuquerque, NM 87131-0001. (It is UNM policy to charge offerer $35.00 plus normal merchant bank fees for each returned check.)

*In person/faxed: Cash must be in the exact amount of tuition. CME does not maintain a petty cash fund. Fax 505-272-8604 registrations accepted with VISA and MasterCard. Faxed registration which do not have credit card information provided will not be processed. Your registration will be confirmed by email. UNM CME no longer accepts POs.
Conference Registration Fees

Early Bird On or
Before Aug 30, 2019
Regular
Aug 31 – Sept 16
On Site
Sept 17-21

MD, DO, DDS, PharmD

$340.00

$380.00

$405.00

MD, DO, DDS, PharmD: Tuition Remission (TR)

$330.00

$370.00

$395.00

PA, RN, NP, CNM, Pharm, Others

$290.00

$330.00

$355.00

PA, RN, NP, CNM, Pharm, Others: (TR)

$280.00

$320.00

$345.00

Full Time Residents / Students * Must provide
proof of student status when registering
(ID, Schedule, Transcript)

$115.00

$155.00

$180.00
Cancellation

If you pre-register and cannot attend, Continuing Medical Education & Professional Development will refund tuition, less a $40.00 administrative fee, provided it is received in writing on or before Sept 6, 2019. No refunds will be issued after this date or for non-attendance. Conferences are subject to cancellation. In the event this conference is cancelled, UNM CME is not responsible for any airfare, hotel or other costs incurred by participants.

UNM Tuition Remission
All eligible UNM Faculty and Staff may enroll using a UNM Tuition Remission (waiver) to cover tuition costs listed on the registration form. PLEASE DO NOT USE THE ONLINE REGISTRATION SITE.

Email a copy of the UNM Tuition Remission Form, along with a copy of the conference registration form, to: HSC-CMEWeb@salud.unm.edu (fax (505) 272-8604). Click this link to download the conference registration form. Proper completion includes all required signatures. No refund or credit will be issued for non-attendance.
Accreditation

The University of New Mexico School of Medicine Continuing Medical Education & Professional Development is accredited by the Accreditation Council for Continuing Medical Education to provide continuing medical education for physicians. Continuing Medical Education designates this live activity for a maximum of 10 AMA PRA Category 1 Credit(s)TM. Physicians should claim only the credit commensurate with the extent of their participation in the activity.


Register Online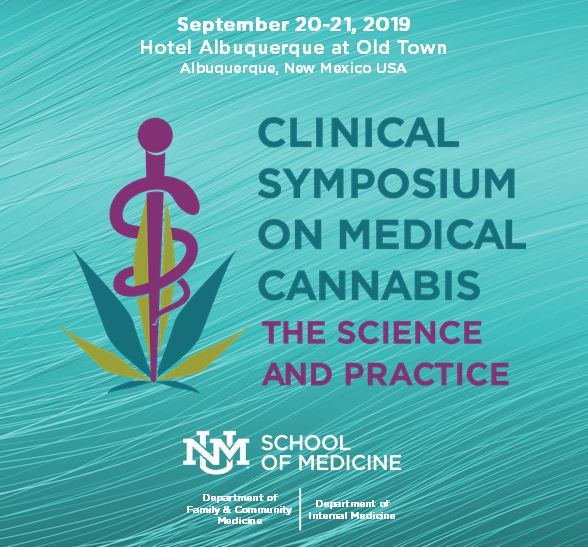 Download the Brochure [PDF]

Hotel Albuquerque
800 Rio Grande Blvd. NW
Albuquerque, New Mexico 87104


For additional information, please contact HSC Continuing Medical Education &; Professional Development at 505-272-3942 or HSC-CMEWeb@salud.unm.edu.