Credit: NM Health Dept.
Upcoming Events
The meeting will be on the first floor in the auditorium (Room A-1006). Petitions to add conditions may be accepted at any time. Those received 30 days prior to the meeting, by 5:00 p.m. on Wednesday February 27th, may be scheduled for the March 29, 2019 meeting.


Advisory Board Hearing
The Medical Cannabis Advisory Board convenes at least twice each calendar year to conduct public meetings and is made up of eight board certified practitioners. Please see the Medical Cannabis Advisory Board Roster for a list of current members. The board is responsible for reviewing and recommending to the department additional conditions that would benefit from the medical use of cannabis, accepting and reviewing petitions to add medical conditions, medical treatments or diseases to the list of debilitating medical conditions that qualify for the use of medical cannabis; recommending quantities of cannabis necessary to constitute an adequate supply, and issuing recommendations concerning rules to be promulgated for the issuance of registry identification cards. The Statute and Rules are available in the

Medical Advisory Board

section of the

NMAC

.
Any New Mexico resident may submit a petition requesting the addition of a new medical condition, treatment or disease to the Board. The petition is delivered to the Medical Cannabis Program staff for processing. It is then forwarded to the Board and scheduled for the next available meeting. At the public hearing the petitioner is able to present evidence and answer questions from Board members. In most cases the Board will vote during the hearing to recommend or not. The Advisory Board will submit its decision to the Secretary of the Department of Health for consideration and to determine the outcome. Public comment is available to people in attendance who would like to present statements in support of or in opposition to the petition.
Petition Requirements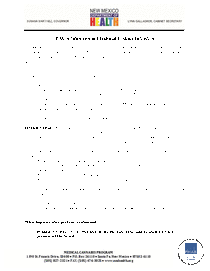 Petition's Provided To

The Advisory Board In 2017/2018

by Safe Access New Mexico
Actions needed by the Secretary of Health on Previously-Submitted MCAB Recommendations from September 07, 2018 and Friday December 7, 2018
Action Pending on these Petitions:
Source: