Cannabis Therapeutics and the Future of Neurology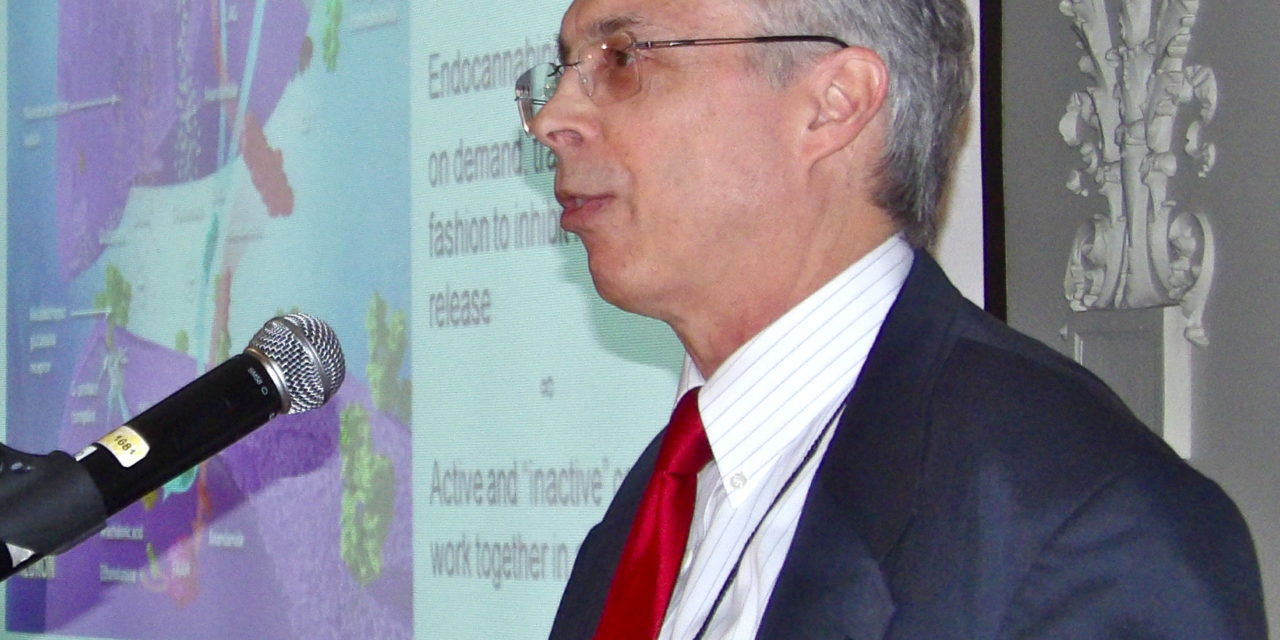 18 October 2018 | Frontiers in Integrative Neuroscience
Neurological therapeutics have been hampered by its inability to advance beyond symptomatic treatment of neurodegenerative disorders into the realm of actual palliation, arrest or reversal of the attendant pathological processes. While cannabis-based medicines have demonstrated safety, efficacy and consistency sufficient for regulatory approval in spasticity in multiple sclerosis (MS), and in Dravet and Lennox-Gastaut Syndromes (LGS), many therapeutic challenges remain. This review will examine the intriguing promise that recent discoveries regarding cannabis-based medicines offer to neurological therapeutics by incorporating the neutral phytocannabinoids tetrahydrocannabinol (THC), cannabidiol (CBD), their acidic precursors, tetrahydrocannabinolic acid (THCA) and cannabidiolic acid (CBDA), and cannabis terpenoids in the putative treatment of five syndromes, currently labeled recalcitrant to therapeutic success, and wherein improved pharmacological intervention is required: intractable epilepsy, brain tumors, Parkinson disease (PD), Alzheimer disease (AD) and traumatic brain injury (TBI)/chronic traumatic encephalopathy (CTE). Current basic science and clinical investigations support the safety and efficacy of such interventions in treatment of these currently intractable conditions, that in some cases share pathological processes, and the plausibility of interventions that harness endocannabinoid mechanisms, whether mediated via direct activity on CB
1
and CB
2
(tetrahydrocannabinol, THC, caryophyllene), peroxisome proliferator-activated receptor-gamma (PPARγ; THCA), 5-HT
1A
(CBD, CBDA) or even nutritional approaches utilizing prebiotics and probiotics. The inherent polypharmaceutical properties of cannabis botanicals offer distinct advantages over the current single-target pharmaceutical model and portend to revolutionize neurological treatment into a new reality of effective interventional and even preventative treatment.
Introduction

Table 1. Neurological conditions for which cannabis-based treatments have been employed (revised, reformatted and supplemented from MacCallum and Russo, 2018).
Various synthetic fatty acid amidohydrolase (FAAH) inhibitors have been investigated for neurological therapeutics (Nozaki et al., 2015), but none have advanced to Phase III clinical trials. This is a mechanism of action seemingly shared with cannabidiol (Bisogno et al., 2001).
Cannabis and Epilepsy
After elucidation of phytocannabinoid structures in the 1960s, their pharmacology was slowly revealed (reviewed by Cascio and Pertwee, 2014; Pertwee and Cascio, 2014; Russo and Marcu, 2017; Figure 1). Various components were tested for anticonvulsant activities with findings of ED

50

in mice of 80 mg/kg for tetrahydrocannabinol (THC), 120 mg/kg for cannabidiol (CBD) and 200 mg/kg for tetrahydrocannabinolic acid A (THCA-A), the carboxylic acid precursor to THC found in raw cannabis flowers (Karler and Turkanis, 1979). Although dose-response was tested, it is unclear that very low doses were assessed and given the biphasic tendencies of cannabinoids, it is possible that positive lower dose effects may have remained unnoticed. CBD was considered an excellent candidate for development based on its lack of untoward psychoactive sequelae. However, little work was done until a series of small human trials in Brazil in following decades (reviewed by Russo, 2017a).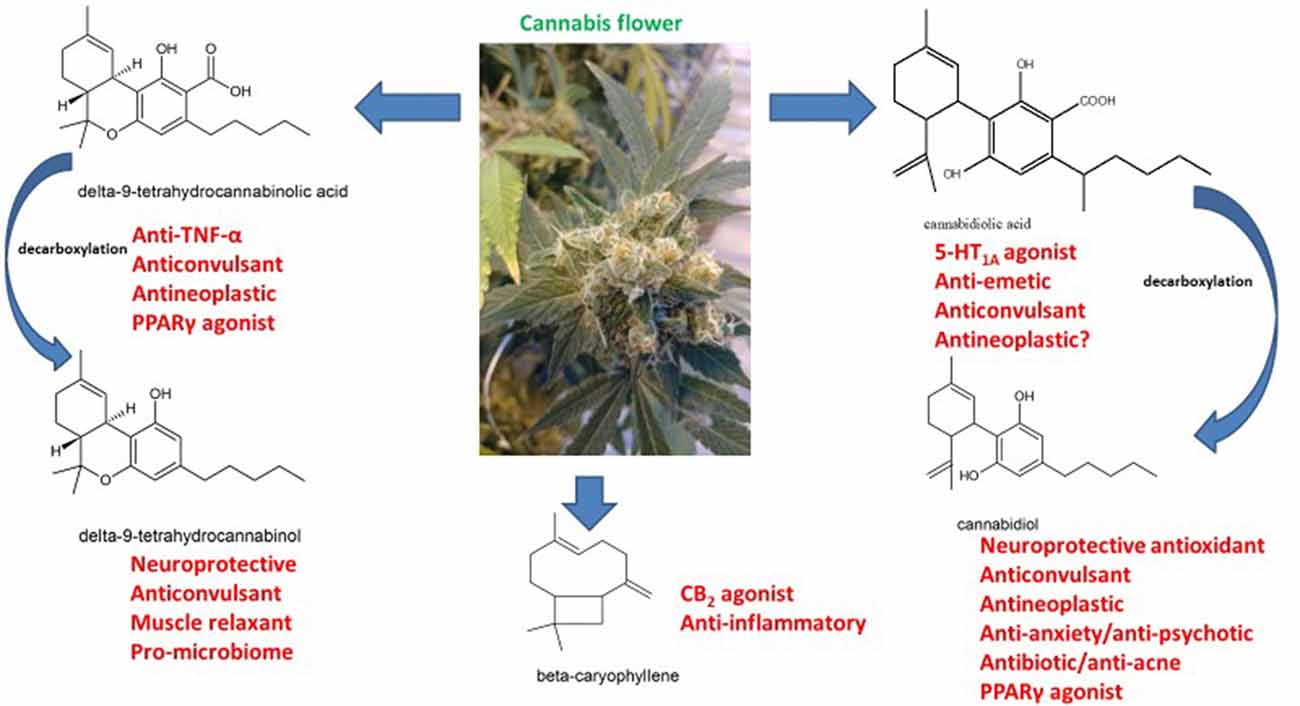 Cannabis and Brain Tumors
Cannabis and Parkinson Disease (PD)
Cannabis and Alzheimer Disease (AD)
• Agitation: THC, CBD, linalool
• Anxiety: CBD, THC (low dose), linalool
• Psychosis: CBD
• Insomnia/Restlessness: THC, linalool
• Anorexia: THC
• Aggression: THC, CBD, linalool
• Depression: THC, limonene, CBD
• Pain: THC, CBD
• Neuroprotection: CBD, THC
• Reduced Aβ plaque formation: THC, CBD, THCA
Cannabis and Traumatic Brain Injury (TBI)/Chronic Traumatic Encephalopathy (CTE)
Human Nutrition, Cannabis, the ECS, "Acne of the Brain" and the "Gut-Skin-Brain Axis"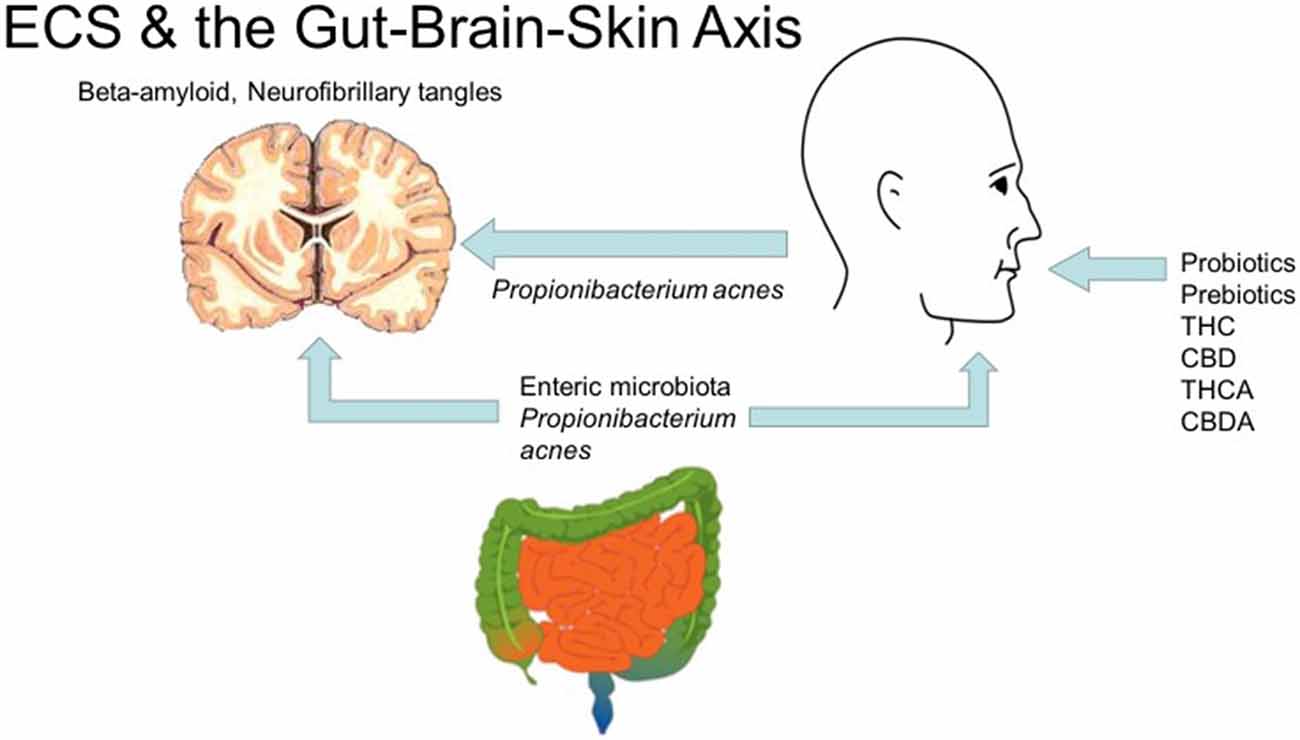 Figure 2. Cannabis, the endocannabinoid system and the gut-brain-skin axis (diagrams of brain, gut by Mikael Hagstrom, face by Mouagip, all public domain).
Future Trends
It is the opinion of many that neurology is facing therapeutic brick walls. The current single target receptor model of pharmacotherapy has not proven universally salutary in the face of complex neurodegenerative diseases. Rather, reconsideration must be given to an older proven model of botanical synergy that may enable polytherapy in single preparations (Russo, 2011; Brodie et al., 2015; Russo and Marcu, 2017; Lewis et al., 2018). Such approaches, combined with nutritional and lifestyle management may make neurology a more preventative and therapeutic specialty, rather than merely diagnostic, and provide better treatment for epilepsy, tumors, AD, PD and TBI/CTE. Suggested strategies include:
• Education as a lifestyle
• Anti-inflammatory, prebiotic and probiotic diet emphasizing saturated and monounsaturated and omega-3 EFAs, bioflavonoids (berries), fermented foods, protein and minimizing carbohydrates (Fallon and Enig, 1999; Perlmutter and Loberg, 2015)
Legitimate concerns surround the psychoactive sequelae of THC, but as amply demonstrated by the nabiximols RCTs and supported by mitigating effects of cannabidiol and cannabis terpenoids (Russo, 2011; Russo and Marcu, 2017; Lewis et al., 2018; MacCallum and Russo, 2018), cannabis-based drugs portend to provide future safe and effective treatments for heretofore recalcitrant neurological conditions.
Author Contributions
The author confirms being the sole contributor to this work and has approved it for publication.
Funding
This study was performed without outside funding.
Conflict of Interest Statement
ER is Director of Research and Development for the International Cannabis and Cannabinoids Institute (ICCI), Prague, Czechia.
Acknowledgments
The assistance of the Inter-Library Loan staff of Mansfield Library of the University of Montana in providing research materials is greatly appreciated.
Footnotes and References
Copyright
© 2018 Russo. This is an open-access article distributed under the terms of the
Creative Commons Attribution License (CC BY)
. The use, distribution or reproduction in other forums is permitted, provided the original author(s) and the copyright owner(s) are credited and that the original publication in this journal is cited, in accordance with accepted academic practice. No use, distribution or reproduction is permitted which does not comply with these terms.